 Quality endorsed by our certifications
We guarantee excellence in our performance, thanks to robust procedures and the highly qualified and skilled professionals that work with us. For this reason, we can comply with the highest standards of the industries we provide a service to.








We are now part of the SEDEX list, which includes all companies worldwide that have a strong ethical commitment and act through sustainable responsible business practices. We successfully passed their SMETA audit, based on 4 fundamental pillars:
Labour rights
Health and Safety
Environment
Business ethics
We care for the planet just as well as we take care of your products
Our Quality and Environmental Policy is aimed at complete customer satisfaction, increasing the organisation's competitiveness, the safety and security of the product being transported and controlling the environmental aspects associated with our facilities and services.
Click here to download the "Quality and Environmental Policy"
Corporate Social Responsibility is an integral part of our business strategy and we collaborate with organisations that support underprivileged groups, operating based on the principle of minimising the global impact caused by carrying out our activity. We make the carbon footprint calculation available to you for every service we provide.
The CDP (Carbon Disclosure Project) organization has included Grupo Logista in the A- list of leading companies against climate change for the 6th consecutive year. It has also recognized the group as a Supplier Engagement Leader globally.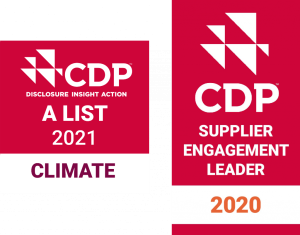 FY22 Milestones:
A carbon footprint measurement model has been designed based on the European HBEFA (Handbook Emission Factors for Road Transport) project, which allows us to estimate CO2 emissions more accurately.
"Green" kilometres have been increased by 6,5%, in other words, those travelled by the Euro6 fleet
CO2e emissions for each kilometre travelled have been reduced by 0.8%
The fleet's age has been kept below the target of 5 years